Kulea Watoto - Quality ECCD for refugee Children in Uganda
Kulea Watoto is an initiative aimed at improving early childhood development and transforming the livelihoods of refugees and host communities in Uganda by providing nurturing care and early childhood learning opportunities and building their own skills to generate income for their families.
In conjunction with The International Rescue Committee (IRC) and partners, we are devoted to improving access to quality early childhood care and development for children aged 5 and under in refugee and host communities in Yumbe, Kyegegwa and Kampala. The Kulea Watoto project is a consortium consisting of IRC, Kabarole Research and Resource Centre, The AfriChild Centre, Literacy and Adult Basic Education, and The Madrasa Early Childhood Programme. The project is utilizing a two-generation approach to reach young children and adult caregivers. The theory of change for the project has been developed as well as a monitoring and evaluation plan. We have also held inception meetings with all partners alongside the reconnaissance visits to the study sites of Yumbe and Kyaka. Currently, the team is conducting an evidence review and Synthesis while developing a research protocol.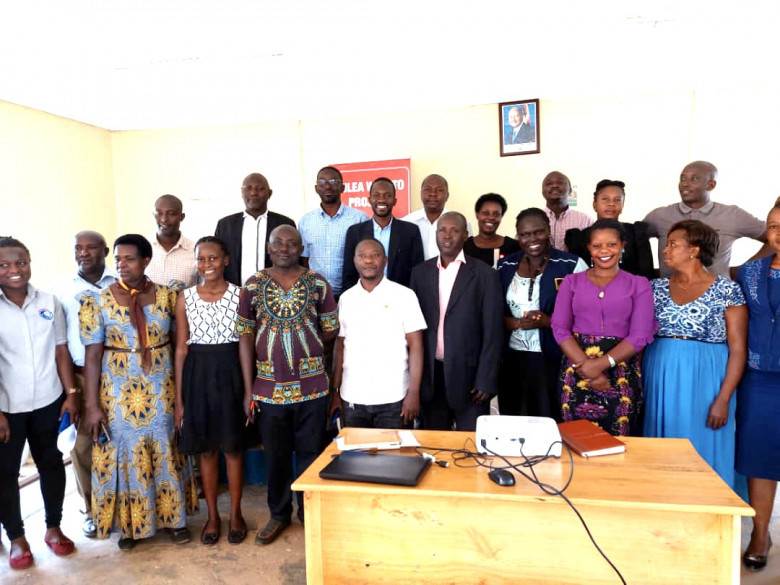 Kulea Watoto Project partners during an inception meeting in Kyegagwa District
Kulea Watoto will be implemented in partnership with four established local partners – including the AfriChild Centre, Kabarole Research and Resource Centre (KRC), Literacy and Adult Basic Education (LABE) and Madrasa Early Childhood Program. To achieve this, the project will offer learning sessions for parents and caregivers on responsive caregiving and the provision of early learning opportunities, improved links to children's services in local communities, livelihood training, and start-up funding for promising business ideas. Kulea Watoto will use a unique two-generation approach to reach out to young children under five years of age and their caregivers in the districts of Yumbe, Kyegegwa and Kampala.