The AfriChild Centre 2nd Annual Conference 2023
Using Research Evidence to Improve Child wellbeing in Uganda: Opportunities for Policy and Practice
On the 28th of February 2023, the AfriChild Centre organised the 2nd Annual Conference at the Golf Course Hotel in Kampala. The Guest of Honor present, Hon. Dr John Chrysostom Muyingo, State Minister for Higher Education, emphasised that Uganda must prioritize investing in the well-being of children. "This will help to achieve prosperity and development," he further said.
Dr John Chrysostom Muyingo also noted that there is a need to ensure access to quality education, healthcare, and other basic needs to help children grow into responsible and productive citizens. Muyingo was on Tuesday officiating at the Africhild 2nd Annual Conference at Golf Course Hotel under the theme "Using Research Evidence to Improve Child Well-being in Uganda: Opportunities for Policy and Practice."
The conference emphasised the use of research to affect the policies and the programs that relate to children, according to Mr Timothy Opobo, AfriChild Executive Director. Opobo says as a country continues to grapple with challenges affecting children, it is unfortunate that a lot of the children's programs and even the policies that are being developed by the policymakers are not necessarily informed by research.
"And so as The AfriChild Centre, we came up with a program to try to address this gap. We developed two programs. One program focuses on researchers, especially within our university institutions. We developed a two-year training program, where we train researchers who are actually academics or lecturers, to be able to do child-focused research or research on issues to do with children. So, that program is one of the programs that we are graduating from today." He said that the second program targets those who use research including the policymakers, the practitioners and those who implement programs for children "because a lot of research when that is done, remains on the shelves."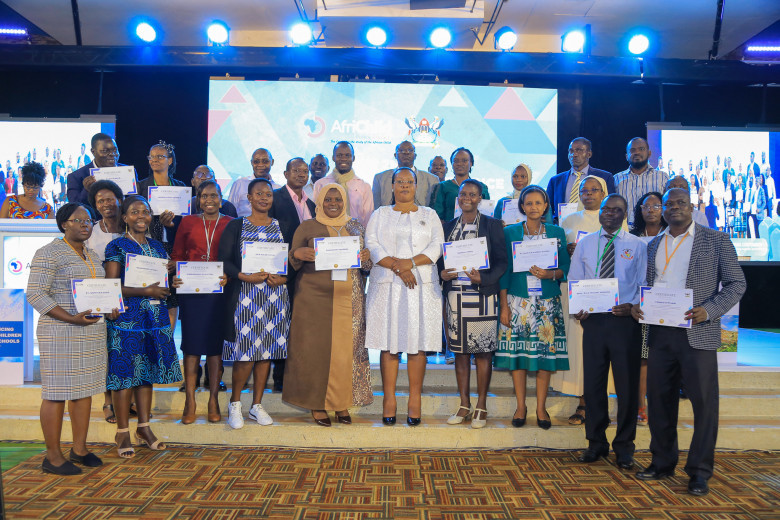 The Inter-University participants in cohort 2 with Hon Sarah Mateke, Minister of State for Youth & Children Affairs
Minister Muyingo commended AfriChild for its efforts and dedication to advancing the cause of children in Africa, noting that there is a need to use research evidence to inform decision-making but also to ensure that the policies and procedures are based on the best available information. "This is essential to ensure our investments in child well-being are practical and efficient," he said. The minister says that although Uganda has made significant progress in collecting and using data to improve child wellbeing, there is still much work to be done.
"We must continue to build on the progress we have made and to use research evidence to identify the most effective policies and practices for improving child wellbeing. We must also ensure that our policies are implemented effectively and that resources are directed to the areas of greatest need." He is optimistic that training policymakers and practitioners will equip them with the skills and knowledge to utilize research evidence in the design, implementation, monitoring, and evaluation of programs and policies for children's well-being.
Giving a keynote address, Dr Joseph Muvawala, the Executive Director of the National Planning Authority noted that sustainable levels of socioeconomic progress need to be anchored in evidence-based planning. "The need to strengthen capacity for generation and use of evidence in planning and policy development, implementation, monitoring and evaluation confers significant responsibility on the existing research institutions and think tanks to be in a position to generate timely, accurate and discernible evidence."
He says that although universities have always been viewed as primary producers of research, there are challenges with regard to the dissemination of these research products. "Traditionally, universities focus on peer-reviewed journals and other purely academic media to disseminate research products, albeit the majority of the potent users being outside the academia. This has led to a lot of research done by research organizations and universities remaining on the shelves hence limiting its impact," he noted. He advised the utilization of the National Research Framework which aims to provide guidance in selecting research priorities that are relevant and address national development challenges but also provides ways of harmonizing and coordinating research activities including dissemination and research uptake in the country.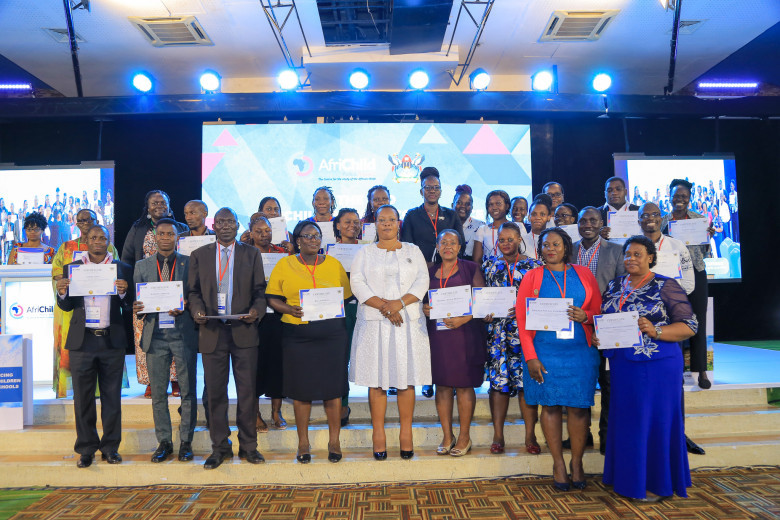 Cohort 2 of the PPURE training with Hon Sarah Mateke, Minister of State for Youth & Children Affairs
Prof. Barnabas Nawangwe, the Vice Chancellor, of Makerere University commended the government of Uganda for its unwavering commitment to improving the lives of the youth and children of this great nation by enabling the university to conduct the studies. "I am grateful that the government recognizes the value of research in addressing some of the current challenges we face as a nation," said Nawangwe who was represented by Mr Emmanuel Kitamirike, Principal Planning Officer at the university. He also applauded AfriChild, noting that over the last decade, it has become one of the leading research organizations in Uganda and Sub-Saharan Africa. He re-echoed the University's commitment to the challenge of evidence research generation, saying that over the past century, they have established a reputation for excellence in training professionals to lead and transform Uganda.
Ms Margaret Kakande, AfriChild Centre Board Chairperson said, "The first years of one's life determine the trajectory to adulthood and actual experience of living a happy and satisfying experience. So, we must be able to be seen to do the right things for our children. And this, therefore, calls for relevant programs for early childhood development and this can be done if you're basing it on evidence." Ms Kakande says that the well-being of children is not just about their physical health, but also about their mental, social, and emotional well-being, noting that "Children who experience positive well-being are more likely to have a brighter future and are also less likely to face challenges in their adult life."

Margaret Kakande, The AfriChild Centre Board Chairperson